Design Trends and Inspiration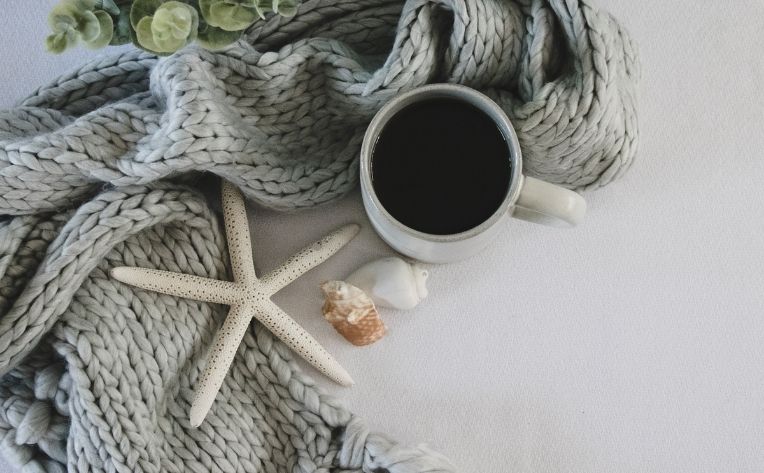 Aug 03, 2021
Hygge—When Home Feels Like a Hug

Hygge is a Danish word for happiness and is pronounced hue-gah. The hygge design style focuses on living a life of joy. The idea is that you are in control of creating a space that brings you happiness, and through your interior design, you can truly live in the moment. This style is especially apparent in the winter months when your home becomes a cozy oasis from the cold.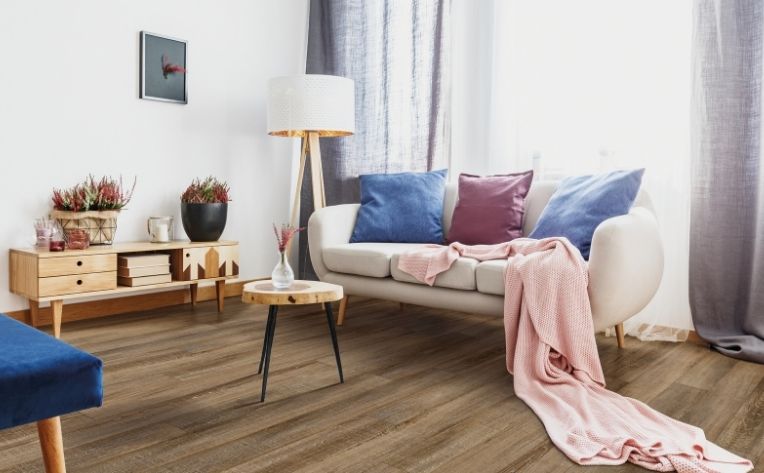 Colour inside the Lines
Since hygge is a Scandinavian style focused on simplified happiness, you should consider this when choosing the colour of your floors. It is best to avoid loud patterns, bright colours, and deep rich tones. Instead, opt for neutral colours that keep the space looking clean and simple.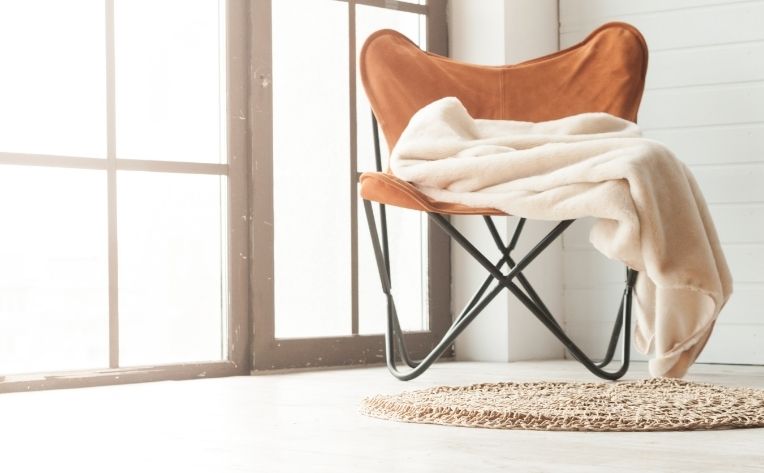 Hardwood Is Hard to Pass Up
When it comes to hygge design, hardwood flooring is the most popular option. Hygge focuses on natural elements, and hardwood checks the box. When choosing your hardwood floors, we recommend selecting lighter-toned woods with a natural matte finish, such as walnut or oak. In addition, hardwoods that have a natural texture like knots or grain marks can also work well. Of course, you will want to make sure the grain marks aren't too exotic or bold as that will contrast with the simplicity of the hygge design. Starting with a simple foundation gives you the freedom to add cozy factors later in the design process.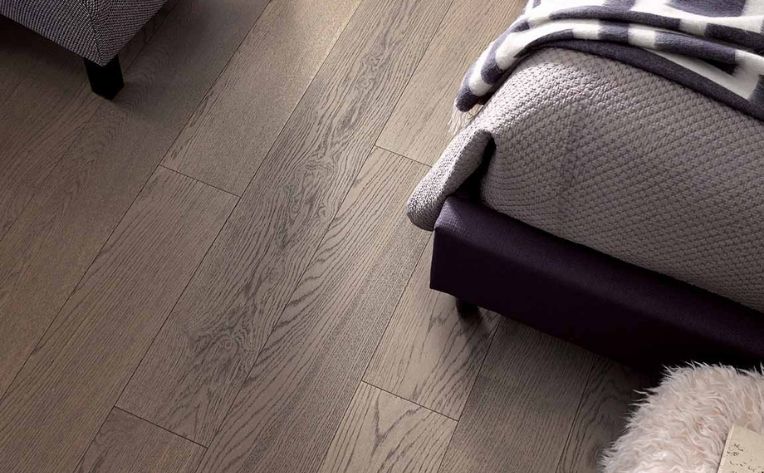 Limited Budget? Try Laminate.
Hardwood can be expensive, but if you want the look of hardwood and don't want to overspend, we recommend trying laminate. Laminate is a more affordable alternative that is easy to install. You will be able to choose from various colours and styles, which means there is an option for your hygge design that is more budget-friendly—allowing you to have your cake and eat it too.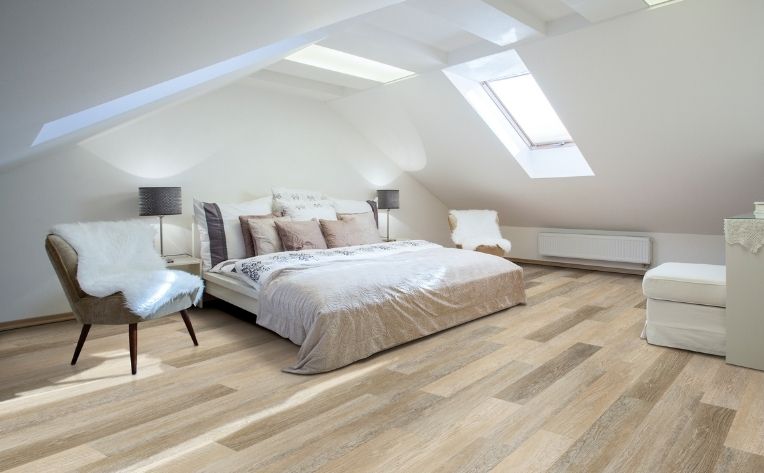 Design Is in the Details
Part of what makes hygge so notable are the warm and cozy elements. So, once you have chosen and installed your ideal flooring, you will want to add some accents to keep your space feeling snuggly. Details you might consider are:
A thick Sherpa throw rug
A classic wool area rug
Lighting with a warm glow, such as a Hygge-style floor lamp
Any other natural materials that you like
When choosing design elements, avoid flashy, distracting pieces to stay within the calming hygge vision.
Finding Your Floor
As always, finding a flooring design can be deeply personal, and we all have unique preferences. For example, some might reach for hot chocolate on a cold winter day, whereas others might go for a warm cup of tea. Both beverages accomplish joy and warmth, which are two essential factors in hygge design. The flooring and elements you choose are up to you, and if they bring you joy and warmth, you have accomplished hygge correctly.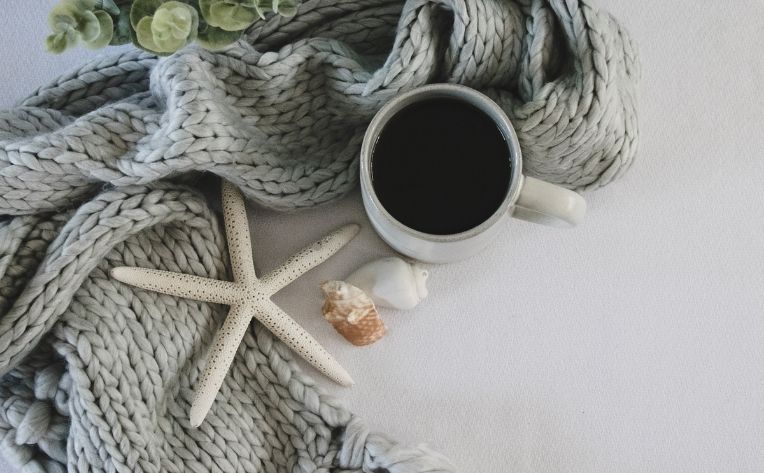 If you still feel stuck when looking for floors that go best with your hygge vision, call or visit your local Flooring Canada store, and one of our experts will help you find the perfect floors for your home.
Continue Reading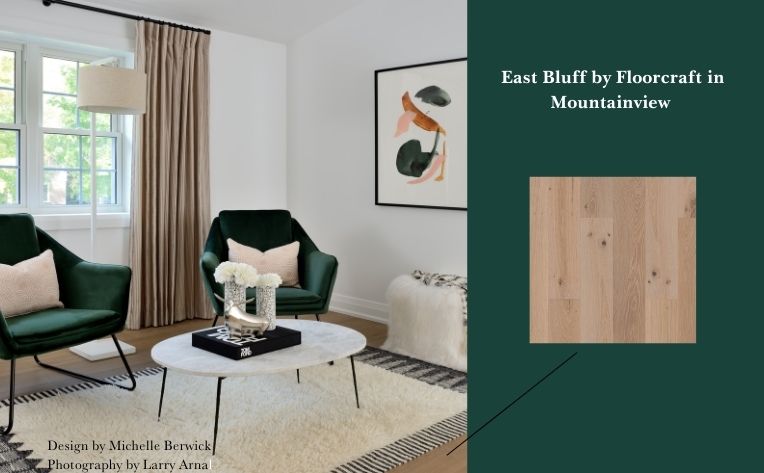 Aug 02, 2021
Interior Inspiration: Calling all Colours
This summer, we're inspired by all things colour! Our favorite trending colours are brilliant orange, accent yellow, soft mint, jade green, sea-cap blue, champagne gold and pastel purple. Incorporating colour into your home décor may not always be easy, so we've put together a spread of seven ways that our favorite interior designers have used these colours in their designs. Plus, you can complete the look with gorgeous new floors from Flooring Canada!
Brilliant Orange: Reading Nook
This clean and bright orange wall makes a statement in this reading nook, which features a contrasting modern white bookshelf and a white square ottoman. The orange pulls out the brilliant tones in book spines and décor from the bookshelf while also grounding the space in warm tones that match the shiny dark hardwood.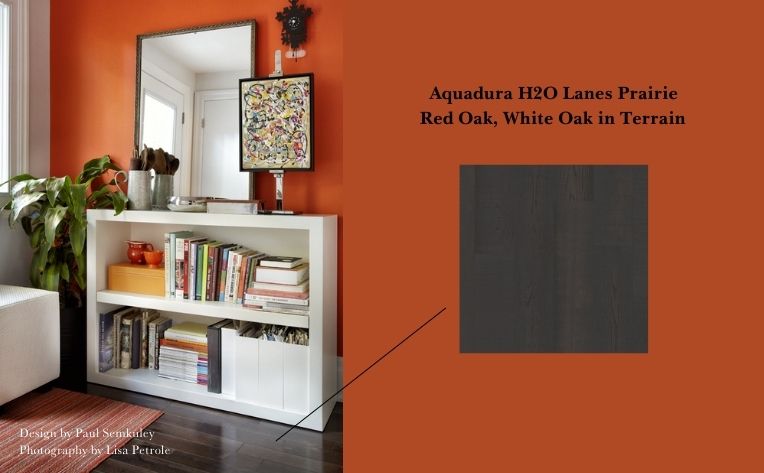 Accent Yellow: Kitchen
Let's face it, yellow is the sunniest of summer hues and can quickly liven up a space just like it does here with illuminating yellow accent barstools, a bright yellow kettle, and decorative flowers in this radiantly colourful kitchen. The yellow tones balance out the whiteness of the space, and the medium hardwood-look floors and blue cabinets help to give the room a grounding point.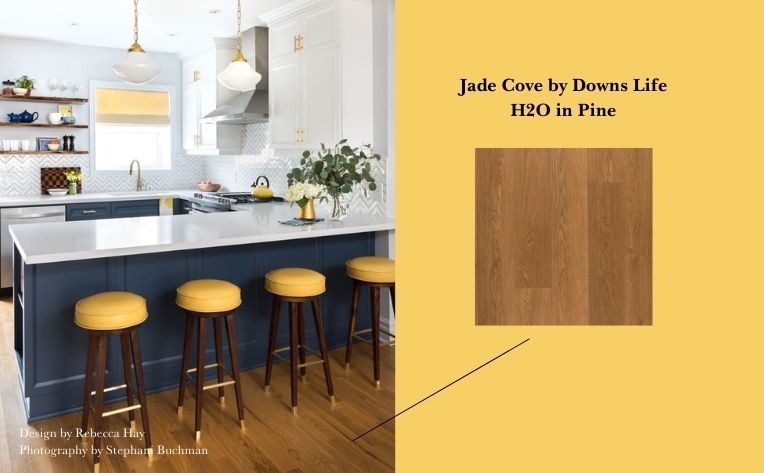 Soft Mint: Bedroom
Soft mint gives this bedroom a refreshing aesthetic and revitalizes a cozy space with a jolt of bright colour that makes one reminisce on their childhood days chasing ice cream trucks. Plus, the plush grey carpet doesn't hurt to tie all the soft pastels together.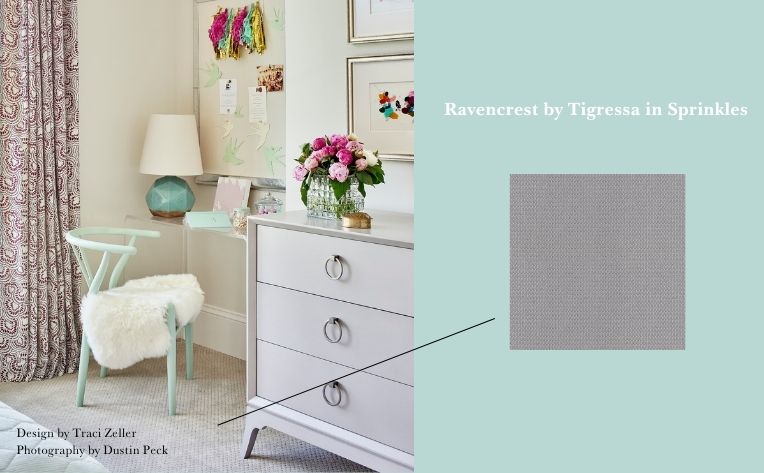 Jade Green: Living Room
Jade green makes a bold statement in this contemporary modern living room, pulling out a rich jewel green in both the armchairs and the artwork lining the walls. Set upon a contemporary layered rug, the dark chairs beautifully complement the light white oak of the floors.
Sea-Cap Blue: Bathroom
In a dreamy ocean-hued escape, this blue pinstriped bathroom wallpaper gives way to beach days ahead, with a decorative sunbather soap dish and fun lantern. Contemporary meets Old World with a stunning crystal chandelier hanging above a clean, white porcelain sink and dark floorboards.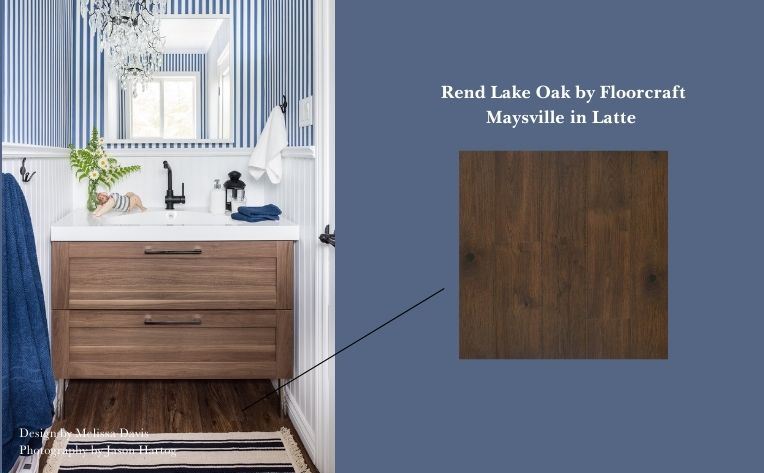 Champagne Gold: Office
Bright champagne gold hardware adds some pizazz to an otherwise ordinary office space with a polished gold desk lamp, glossy gold décor, and chair legs that shine in natural light. Metal hardware easily stands out against a contemporary light wood floor.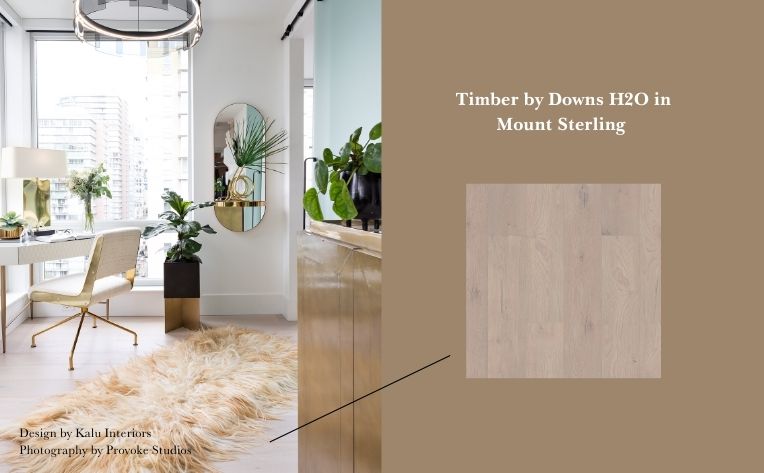 Pastel Purple: Bathroom
Bathrooms can be the perfect spaces to let in natural light with airy windows and custom skylights. The design of this bathroom capitalizes on this bright trend with a tranquil splash of purple pastel via the lavender cabinets and delicate marble-veined flooring.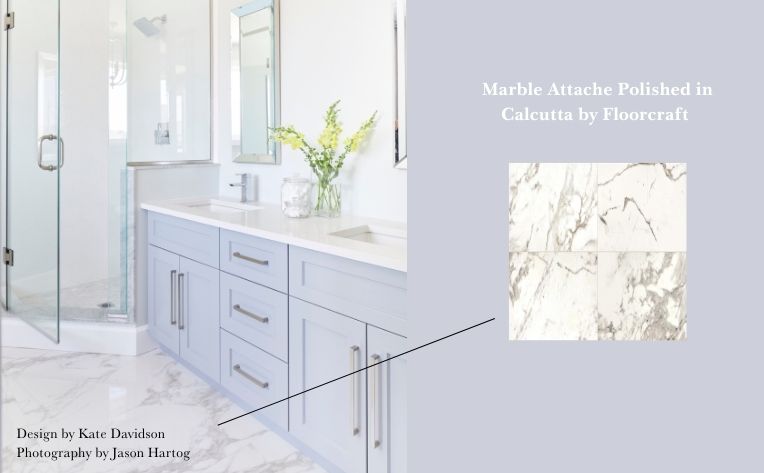 For more design tips and insight on how to utilize colour throughout your home design, check out our Flooring Canada blog.

Continue Reading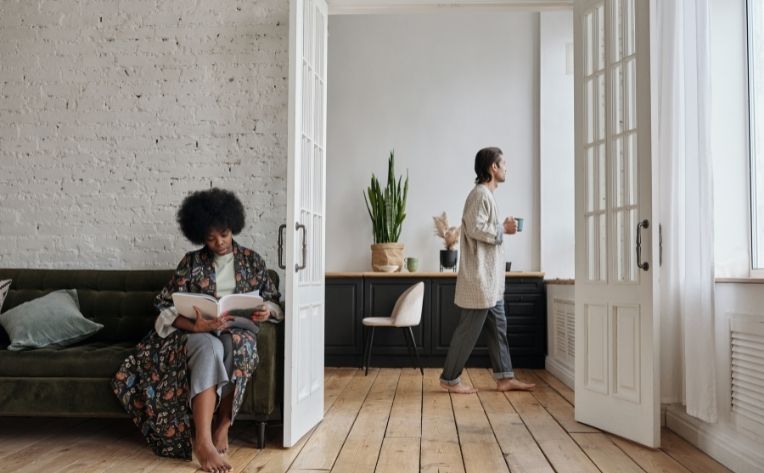 Jul 28, 2021
What is the best flooring for walking barefoot? And why does it matter?

Shoes are often a hot topic, from the freshest sneakers to cozy slip-on slippers or fashion-forward fall boots. But walking barefoot and the benefits of barefoot walking don't seem to get as much attention. Although your bare feet might not be glamourous, walking barefoot has many benefits. So do certain surfaces that you walk on, which is why the floors in your home should be supportive, feel good under your feet, and look just as stylish as this season's latest shoe.
Feet Freedom
There is a theory that barefoot walking helps adults return to a natural pattern of walking. Of course, the support that we get from shoes can be beneficial, but often shoes are over-padded and can weaken muscle as the shoes are doing the work our bodies should be.
How Do Floors Fit In?
Walking barefoot has benefits and can be great, but how does this relate to flooring? Uneven or rough surfaces can be tough on your feet and lead to injury if you walk barefoot. In addition, hard surfaces can be rigid on your joints. When it comes to flooring, especially professionally installed floors, they should be smooth and even. Thus, you shouldn't have to worry about your floors being a danger unless you have small children leaving LEGOs® around. Flooring that is easy on joints should be your number one priority if you love walking barefoot and are looking for supportive floors.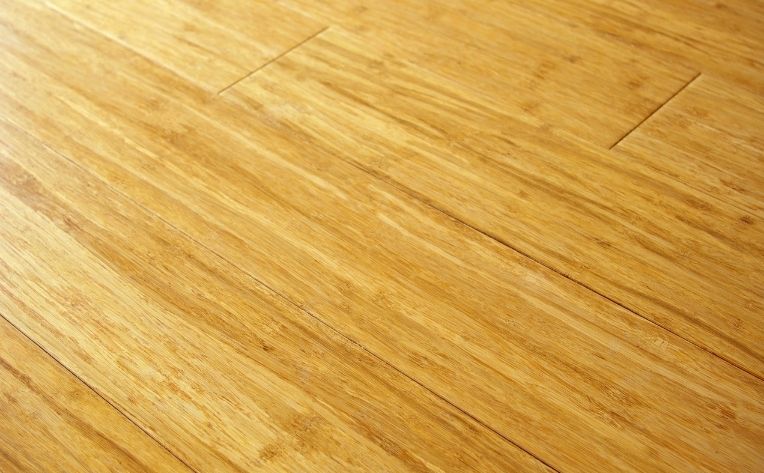 Pop Open an Unconventional Flooring Option
Cork floors are a fantastic eco-friendly flooring option for those who like to pad around barefoot. Although it is an uncommon flooring type, it provides many benefits and a beautiful natural look. Cork is a softer type of wood, which makes it shock absorbent, and it is a natural insulator, which means it won't be cold on your feet like other floorings, such as tile. Plus, it absorbs sound, which means walking across it won't be loud.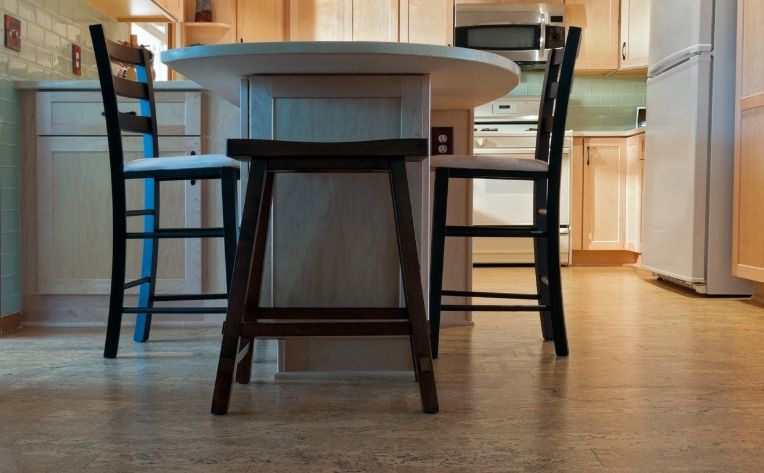 Get a Bounce With Bamboo
Bamboo is also an eco-friendly option that is softer than traditional hardwood flooring but harder than cork flooring. Fun fact, the bamboo plant is considered grass, not a tree. This flooring option will give you the look of hardwood but a softer, more forgiving feel, which will be easier on your joints.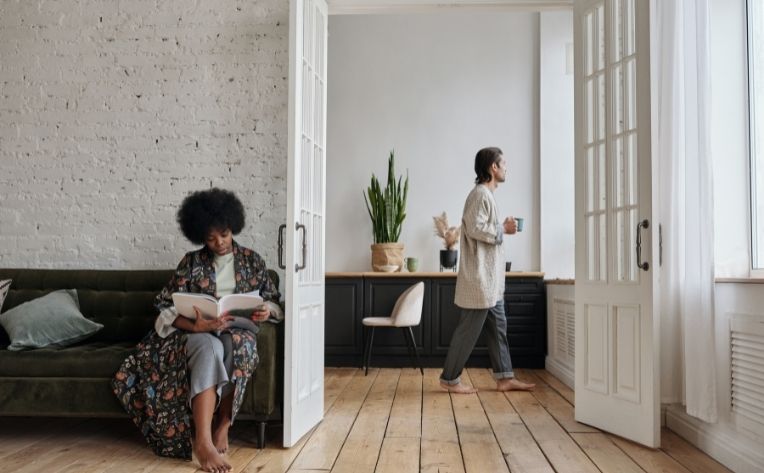 Carpet—a Cozy Classic
Carpet is another excellent option for joints. Due to the padding installed underneath carpeting, it has a soft, forgiving bounce. Plus, you could even opt for extra-thick padding to make your new carpet even cushier. Similar to cork flooring, carpeting will not be cold to the touch, which means that your bare feet will be nice and warm even in the winter months. Plus, carpet is also a quieter flooring material, making it great for bedrooms, offices, and playrooms.


For Those Who Can't Part With Hardwood and Tile
If you love the way hardwood and tile look but still seek a more forgiving floor for your joints, you can also purchase small area rugs or flooring mats. Like wall-to-wall carpeting, thicker pads placed under these free-floating area rugs can make them even more forgiving. When placing down small mats or rugs, you should consider areas where you stand a lot, like in front of the kitchen sink.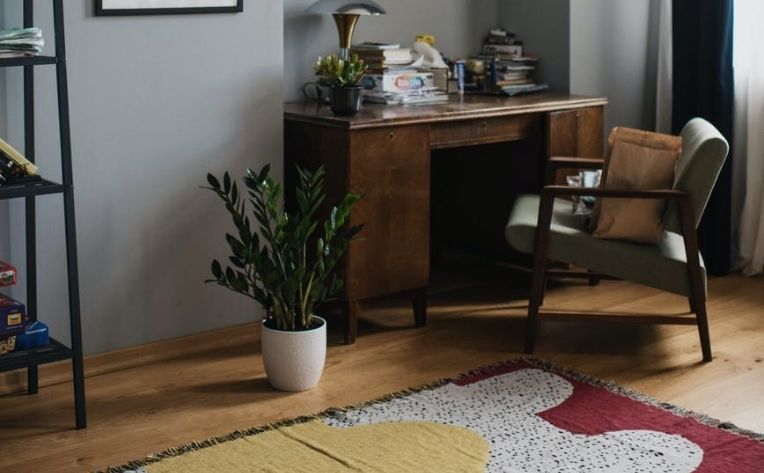 Learn More from the Experts
If you want to learn more about the most supportive and cozy floors for barefoot walking, ask the folks at Flooring Canada. Plus, when you stop in a local Flooring Canada store, you can touch and feel sample flooring, which, with the help of our experts, can help you find the perfect floors for you and your feet.
Continue Reading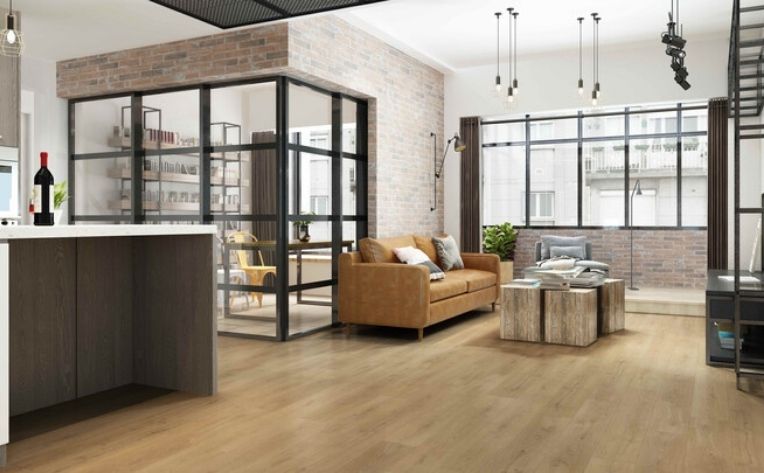 Jul 26, 2021
Hardwood Floors or Carpets?
Weighing the pros and cons of carpet versus hardwood floors is an unfair comparison because the truth is these two materials are total opposites. Despite them being so different, they are also the two most popular types of flooring. There are several critical factors to consider when deciding between these two types of flooring: budget, property value, location, maintenance, and style.
Dream Floors on a Budget
Budget is a significant factor to consider, but buying new floors doesn't have to be stressful or cost a fortune. Researching which floors cost more and how different flooring options compare will help you stay on budget. When comparing hardwood and carpet, hardwood flooring is usually the more expensive option. The average cost of carpet per square foot is $3, whereas the average price of hardwood floors per square foot is $8. It is also essential to recognize that carpet is cheaper but not as long-lasting as hardwood.
Additionally, there is a wide range of carpet and hardwood flooring options. Meaning that you can get carpet even cheaper than $3 a square foot, or you could splurge and spend $20 a square foot. Similarly, hardwood floors come in a range of prices as well. For example, oak floors could be as cheap as $3 a square foot or as expensive as $14 a square foot.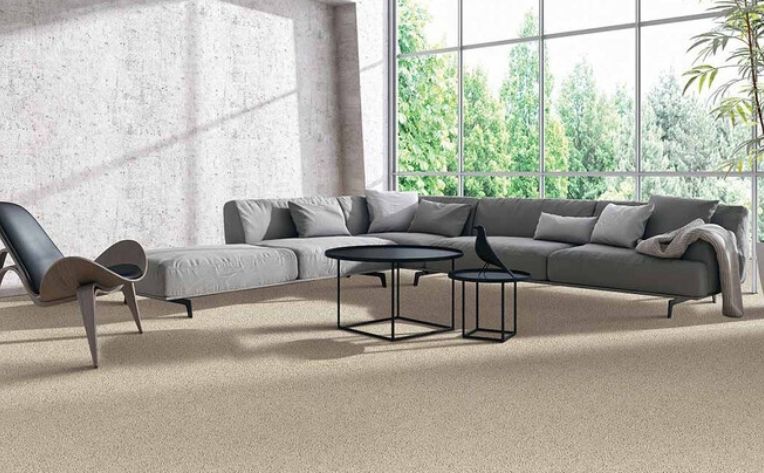 Invest with Flooring
As a homeowner, improving your property value is always an appealing goal to strive for, especially if you are planning on selling in the near future. In terms of resale, hardwood is a better option than carpeting because hardwood is far more desirable, long-lasting, and easier to keep clean. If hardwood isn't in the budget, we recommend neutral carpeting, as this will also appeal to buyers.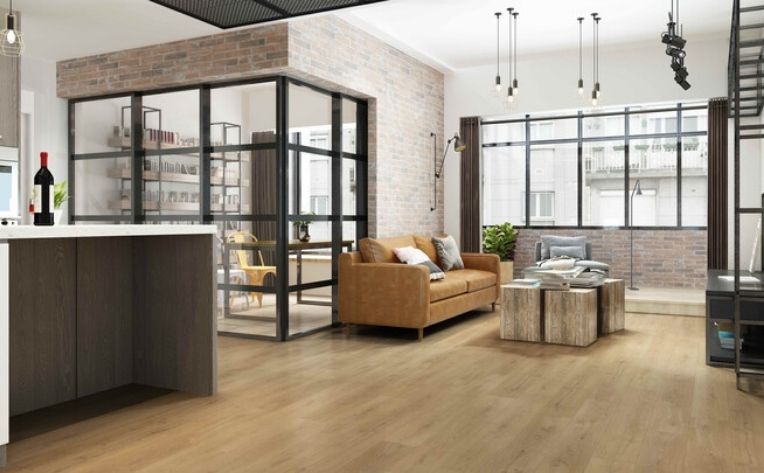 Choosing Floors Is All About Location, Location, Location
The differences between carpet and hardwood floors make each of them more suitable for specific locations. Carpets are cozy and soft to the touch. It can make spaces both feel and look warm. It is also quiet when it comes to foot traffic. These factors make carpets great for bedrooms, living rooms, basements, playrooms, and offices. Carpet can be more challenging to clean, which means you should not use it in high-traffic areas or place it in more messy water-prone rooms like the kitchen.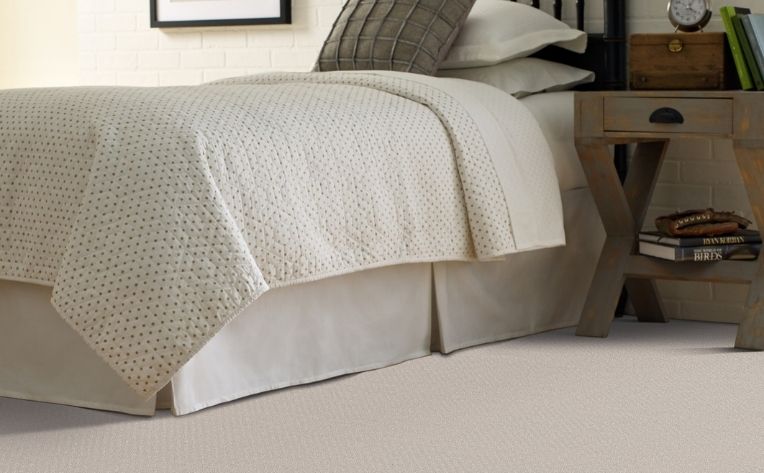 Hardwoods, on the other hand, are cooler to the touch but also very loud. If you have hardwood flooring on the second floor, those on the first floor may be able to hear everything from a wild dance party to someone tiptoeing for a late-night snack. Hardwood floors are much easier to clean and maintain, making them excellent options for kitchens, entryways, high-traffic spaces, dining rooms, and anywhere in between. To make hardwood floors warmer, you can always install heated hardwood floors, which of course, will be more expensive. To make them a little quieter, you can always add an area rug. If hardwood floors are well taken care of, they can last a lifetime and then some.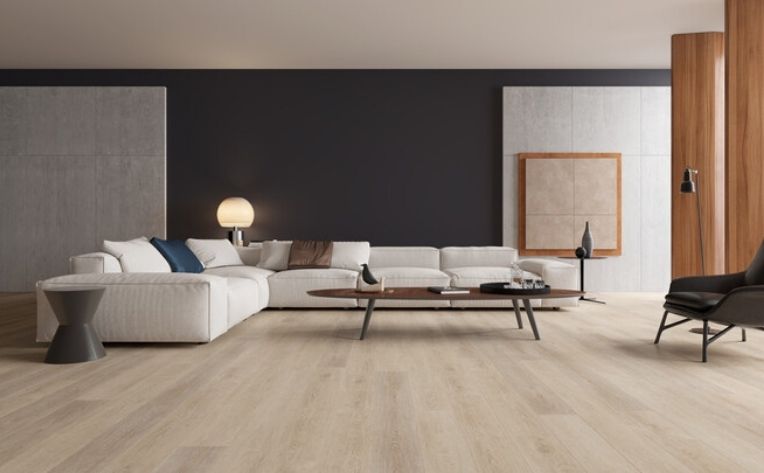 It is also important to note that neither of these flooring materials would do well in areas where water sits on the surface for a prolonged period. For example, bathrooms stay damp and are more prone to puddles, which is unsuitable for carpet or hardwood.
Strut on Style
Both hardwood floors and carpeting come in thousands of options. There are so many different species of wood, finishes, and patterns when it comes to hardwood. In addition, the colour options and material choices for carpets are endless. There isn't a one-size-fits-all flooring option, which is part of what makes designing your space so exciting. With the help of Flooring Canada experts, you can easily find what works best for your home.
Continue Reading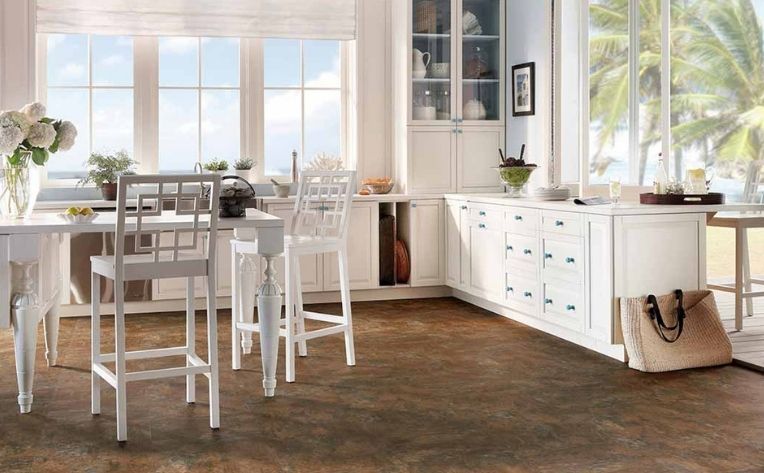 Jul 21, 2021
The Beach Is Calling. It Says You Need New Floors.

The beach is a fan favorite for many, and you know what the beach has a lot of? Sand. Sand is excellent when it's on the beach but not so great when it's on your floors, which is why finding the right flooring for your beach house can be a bit tricky. In addition to sand, water, salt, and other summer fun can come stomping onto your beach house floors, so it's always better to be prepared with the right flooring solution. But what kind of floors are best for a beach house?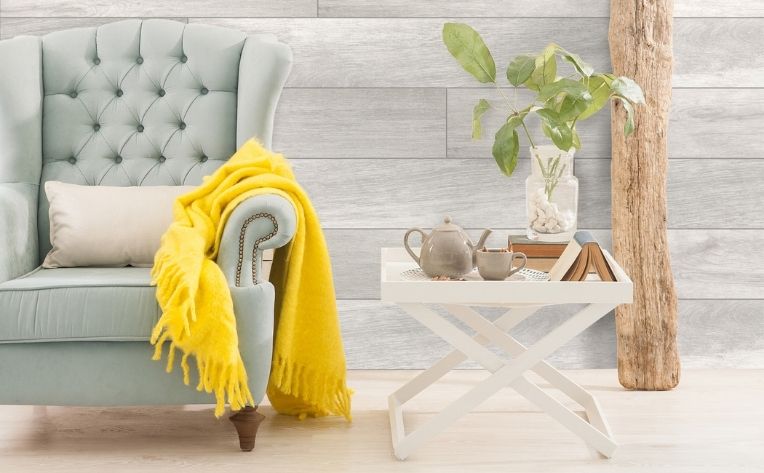 Dip Your Toe in a Pastel Colour Scheme
A light colour palette is an obvious choice for a beach house. It opens the space and brings a bright, cheerful summer mood into your home. Plus, lighter floors will make dirt, dust, and wear less visible, creating a low-maintenance floor option. By choosing light-coloured floors, the baby pinks, sea-foam greens, and cheery yellows that are introduced in your décor are more likely to fit in --plus they can bring an uplifting aura to your space.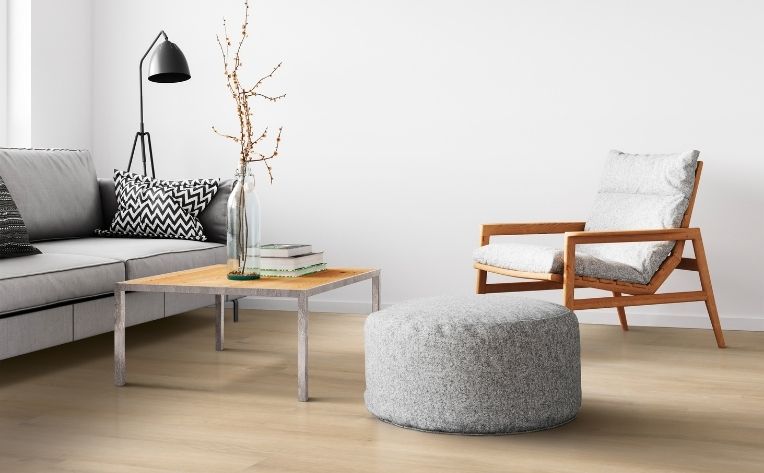 Hardwood to Complement Your Driftwood
Hardwood floors are an excellent option for a beach house, especially hardwood with a weathered finish. Distressed-looking hardwood floors will not only tie in with other nautical elements, like a rowboat oar or surfboard hung on the wall, but the wear from sand and wet feet won't be as noticeable. Another benefit of hardwood floors is that they are easy to clean and sweep, making cleaning up after summer feet easy. The downside is that hardwood floors can be pricy and more easily water-damaged.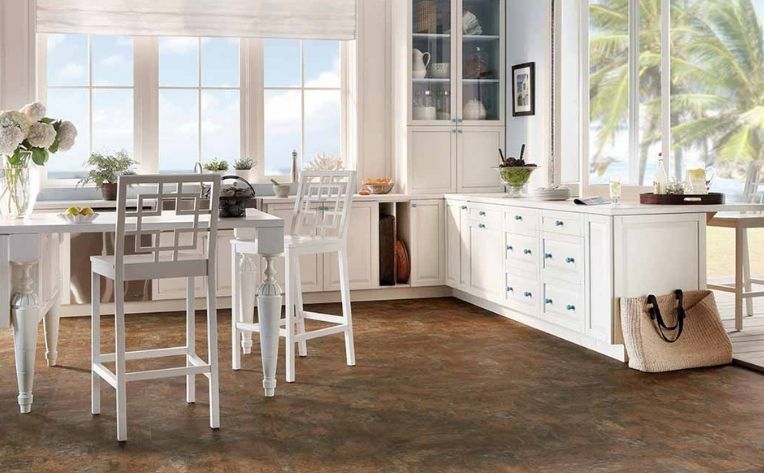 If you love the way hardwood floors look but can't afford them, laminate is a great budget-friendly option. Laminate comes in many styles, including wood lookalikes. Plus, it is more durable and water-resistant than traditional hardwood floors.
The Tide Is Turning on Vinyl Flooring
Luxury vinyl flooring is an excellent option for those who live by the sea. This flooring is affordable, stylish, and durable. The vinyl that stole the show in the 1960s is the flooring of the past. Luxury vinyl flooring comes in a large variety of styles, such as planks, sheets, and tiles. Plus, different colours and textures are also available, making it easy to find a style that you love. PVC and other synthetic materials are used to create luxury vinyl flooring, making it scratch- and stain-resistant. The icing on the cake is that luxury vinyl is also waterproof and slip-resistant, which means that it is a perfect flooring choice for a beach house.
Make Waves with Tile Flooring
A unique quality about tile is that it is cool to the touch, and as we all know, summer gets hot, especially when you are at the beach. In addition to its cool temperatures, tile is also durable and holds up well to moisture. From porcelain to ceramic, there are endless options to choose from, which means you are limitless in your beach house design. Due to the wide variety of sizes, styles, and materials, it also means that tile is suitable for any budget or design dream.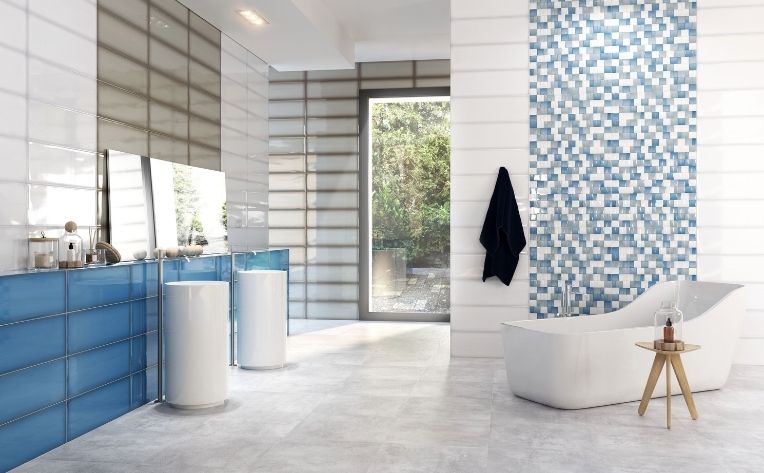 Don't Let Your Beach House Flooring Dreams Drift Away
If you are looking for the perfect floors for your beach house but don't know where to start, reach out to a Flooring Canada expert. These experts can help you find functional, stylish, and affordable floors for your beach house that are ready to take on all your summer fun. Give them a call, or stop by your local Flooring Canada store today.
Continue Reading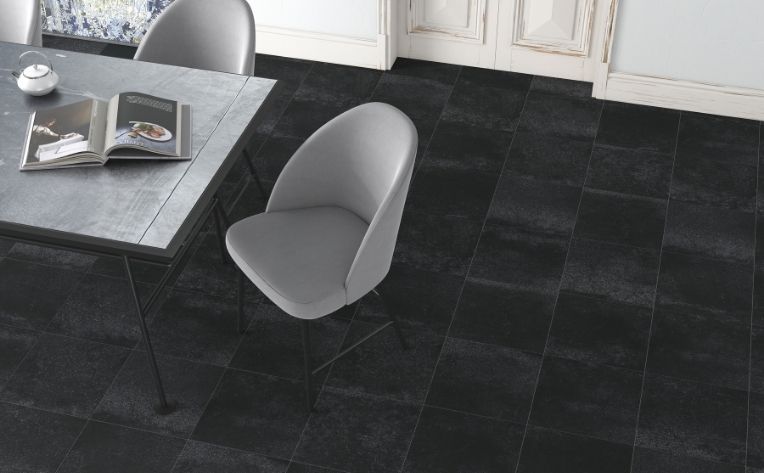 Jul 19, 2021
Choosing Between Porcelain and Ceramic Tile
When it comes to installing new tile, both porcelain and ceramic are excellent materials. They are both durable, long-lasting, and come in an assortment of colours and styles. But, of course, there are some key differences and benefits of both materials. So, identify your top flooring priorities and see what material will work best for your next project.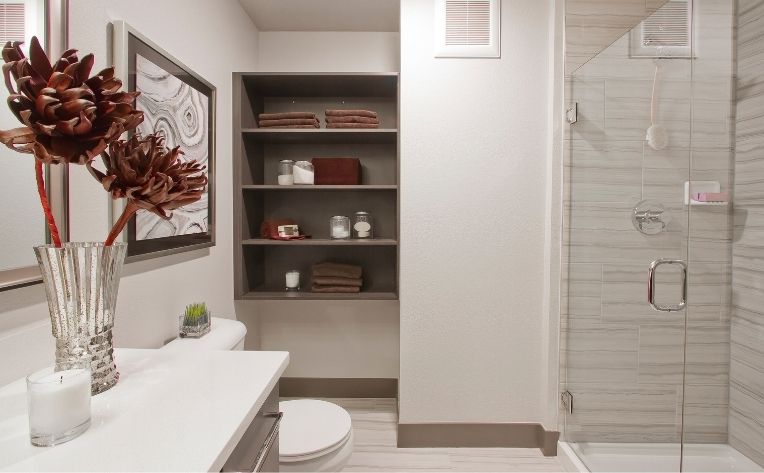 Clay-Based and Kiln-Fired
Despite their numerous differences, ceramic and porcelain tiles are both clay-based. Porcelain tiles are considered a sub-type of ceramic tiles. Although both tiles are fired in a kiln, ceramic tiles are fired at a lower temperature, making them softer, less dense, and more porous. Porcelain tiles are the most durable type of tile as they are fired at a higher temperature.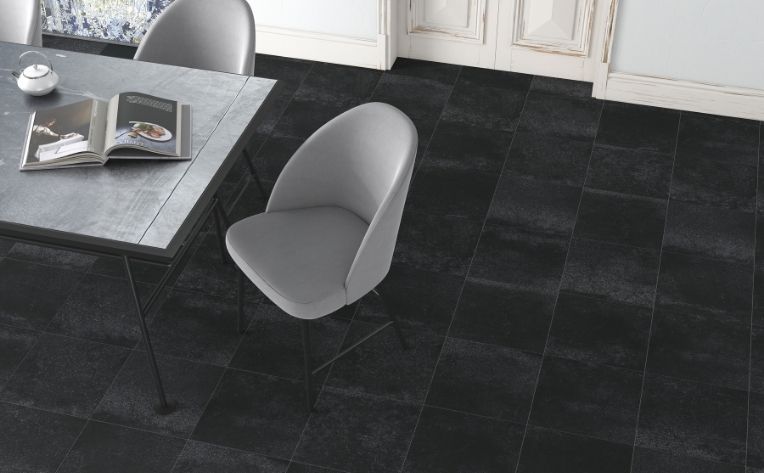 The Fired Finish
When it comes to the finish of porcelain and ceramic tiles, there are options. If the tiles have gone through the kiln only once before installation, they are considered unglazed. However, both of these materials can be glazed, which means they will be fired in the kiln a second time with glaze applied. Glaze can be used to create different colours, patterns, and textures.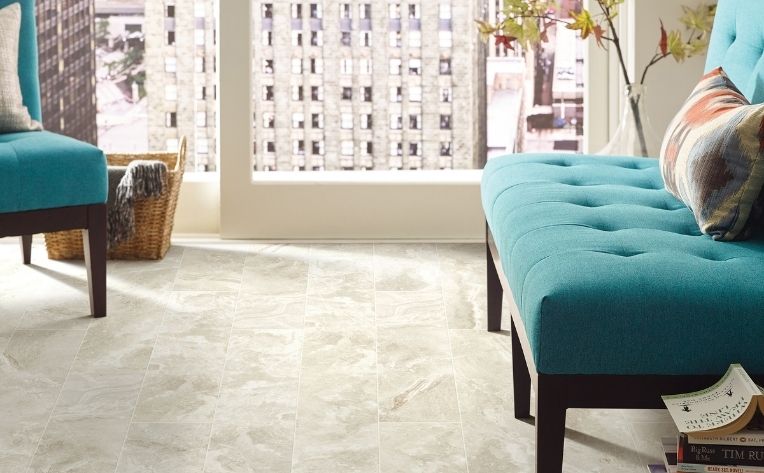 In addition, glazed, porcelain and ceramic tiles can be coated with sealants and finishes once they are installed in your home. Although this is not necessary, a penetrating sealer might help keep your tile lasting longer. Talk to Flooring Canada professionals and ask if they think an additional sealant is necessary after their expert installation.
Breaking Down the Pros and Cons
Ceramic tile is hands-down the more affordable option. Plus, it is easier to install due to its soft surface, and it's more readily available. However, the soft surface can also be a bit of a concern as it is not as durable as porcelain. Ceramic should not be used in areas that are more exposed to water, like showers and patios, because it has a high absorption rate. Another point to consider, is that ceramic tile is naturally cool; it's excellent for warm climates but might be uncomfortable in winter months or colder climates.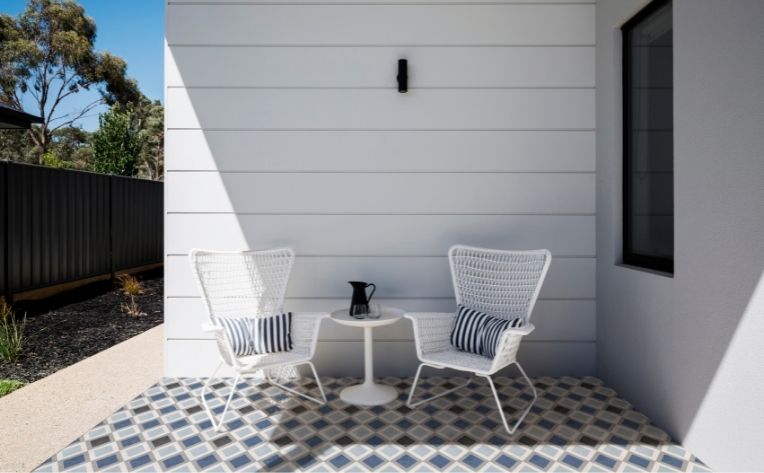 Porcelain, on the other hand, is more expensive. In fact, it can cost up to 60 percent more than the average ceramic tile. However, this cost doesn't come without some fantastic benefits. It is durable, versatile, and is water-resistant, making it an excellent choice for bathrooms, patios, and laundry rooms. Although the durability is a terrific benefit, especially if you are installing in a high-traffic area, a wet saw with a diamond blade is necessary to cut cleanly through the material. Due to the tricky installation process, professional installation is the best option for porcelain tiles, which will add to your budget.
Let an Expert Help You Make a Choice
Sometimes it can be hard to choose the right flooring materials, especially when the options seem endless. Your local Flooring Canada experts are here to help, so stop by today, and let us find a floor that fits all your needs without compromising any of your style.
Continue Reading